There are many podcasts specifically dealing with creating music that are being produced right now. There are many more that have podfaded (gone out of production) but the back episodes are still available and a great resource. I have divided them between Current and Legacy. Hopefully this page will be updated regularly with new casts and they are created and let you know when classics have faded away. (Click on the image for a direct link to the podcast website)
Current
Interview/Roundtable Discussion
AudioNowcast
The AudioNowCast is a roundtable discussion of the day's audio news followed by some specific topic chosen by the host, Mike Rodriguez. Often there will be a guest who is an expert on some audio topic. A few guests have gone on to become regular panelists. The panelists include people who are currently at the top of their game, whether it's producing, TV and film post production, game audio, trailers, songwriting and more. The show is in current production and has new episodes once to twice per month, as the panel can get together. Regular panelists include songwriter Martin Page, producer Rob Arbitier, movie sound designer Scott Gershin, Disney game audio designer Nick Peck, movie trailer mixer Brandon Burnside, and producer and music educator Bobby Owsinski. (h/t Jon Tidy)
Big Ego Tapes
Conversations with interesting people about music, film, art, philosophy, Del Taco, literature, politics, and more music. Recorded on to a single 60 minute tape with no edits and broken in to two 30 minute parts (Side A and B). Hosted by Chris Schlarb. Have to be honest, the incredibly low quality and super crushed limiting of the audio makes me hesitate to recommend this podcast, but the interviews are really good. Basically a gimmick taken a bit too far.
Bobby Owsinski's Inner Circle
Speaking of Bobby Owsinski, his involvement with the AudioNowCast has inspired him to start his own podcast, Bobby Owsinski's Inner Circle. In each episode he starts with some industry news that he thinks his listeners will find interesting, and the bulk of the show is an interview with someone in the business. Bobby's been interviewing people for years for his popular "Handbook" series, and is really good at getting to what we want to know. The show posts weekly without fail and now has over 200 episodes.
Gear Club
Gear Club is a podcast about the art & science of music recording. Listen to interviews with artists, producers, engineers and all the folks behind your favorite records. Cohost Stewart Lerman is a 2x Grammy winning music producer and recording engineer based in New York City. Cohost John Agnello started at the Record Plant in New York City, where he was able to work on some legendary 80s albums by Cyndi Lauper, Aerosmith, and John Mellencamp. Since then he has worked with alt rock legends, Dinosaur Jr, Sonic Youth, Son Volt and Patti Smith and up and comers such as Phosphorescent, Kurt Vile and Twin Peaks.
Hanging Out with Audiophiles
Hanging Out with Audiophiles is an interview show hosted by producer and vocalist Jamie Lidell. He get's guests that I haven't heard on other shows and each interview is more like a conversation with Jamie adding as much as his guest. Each episode begins with studio tips and tricks section called The Nitty Gritty.
The Mixing Board
Hosted by Brynner Agassi, The Mixing Board podcast is focused on dialogue with fellow musicians, musical product companies and a wide array of artists with a goal of connecting the mindset of musicians and going behind the artistry that has made them who they are today. An interview show, Brynner is catching a lot of music industry.
Noise Creators Podcast
Noise Creators is a service connecting artists with producers by providing background, CVs, and interviews with said producers. The Noise Creators podcast contain those interviews. While these interviews are primarily designed to help artists connect with the right producer for their project, there is a wealth of information about how to produce provided at the same time. This podcast is what I had hoped Produce Like a Pro would become.
Pensado's Place
Pensado's Place is the 10-ton elephant in the audio podcasting world. Hosted by a-list mix engineer Dave Pensado and his well connected manager Herb Trawick, this video show (with an audio version) is primarily an interview show, mostly with other a-listers from the audio world. The show is opened each week with a tips segment called Into the Lair which is usually hosted in Dave's mix room. Always interesting, frequently educational, this is definitely worth the time.
Recording Studio Rockstars
Recording Studio Rockstars is hosted by engineer and producer Lij Shaw, owner of Toy Box Studio in Nashville. He noticed how hard it is to get an internship at a studio to learn the craft. He could only take one every several years depending on how long they stuck around. This podcast is his way of spreading the knowledge. It is an interview show with mixers, producers and audio educators, and his line of questioning always has an aim toward teaching. He has a lot of repeat questions between his guests to the listeners can see how different engineers answer them differently depending on their experience and situation. He also stops to make sure that industry jargon and inside phrases are explained.
SonicTalk
SonicTalk is the podcast of the SonicState website, which specializes in synths and electronic music. This podcast originates weekly as a live show every Wednesday and is posted the following day on iTunes. It features roundtable discussion of the news of the day by music professionals from both sides of the pond via Skype. The live nature of the show leads to some interesting situations, such as when the host was talked into buying a Korg synthesizer live on Ebay. (h/t Jon Tidey)
TapeOp
After threatening for several years to start a podcast, Larry Crane of TapeOp magazine and Jackpot Recording Studio in Portland, OR, has finally made good. I believe the episodes (which are released irregularly but approximately monthly) are taken from recordings for interviews for the magazines. So far the names are classics: Brian Eno, Jack White, Steve Albini, Glyn Johns. Larry's casual, friendly style brings the best (and occasional surprises) out of his guests.
Unstoppable Recording Machine
The Unstoppable Recording Machine podcast is adjunct to the URM Academy, hosted by producer and plug-in maker Joey Sturgis, with co-hosts Eyal Levi, and Joel Wanasek. The episodes are a combination of interviews, mix critiques, and Q&A shows. The material is generally aimed at Rock, Metal and other heavy music genres, but a recent mix critique (featuring three mixes of the same song by Academy members) featured a Country song with a guest Nashville engineer to offer input.
Working Class Audio
Working Class Audio is an interview show produced and hosted by veteran mixer Matt Boudreau. The mission of this podcast is to present the stories and advice from independent mixers and producers (at first studio owners need not apply – at episode 30 he up to anyone working in the music business with a "working class" perspective – a great add). He interviews a remarkable range of professionals from all aspects of music recording – rock to classical and everything in between. Some of his guests are full-time and some have day jobs. Matt always addressed money issues with his guests, too, so the information is valuable for anyone looking to either make a living or at least have the music pay for itself. With over 100 interviews under his belt as of this writing Matt is going strong.
Education/Tutorials/Q&A
The DIY Musician Podcast
The DIY Musician Podcast is the official podcast of CD Baby. This podcast is not so much technical in nature, as business-oriented. Their purpose is to help independent artists succeed in the music business. To this end they have a rotating format. Some shows feature an interview, either of an independent artist who is "making it" or "on the way", or a music professional dispensing advice. On the other weeks, they have a roundtable discussion where they comment on the previous week's interview(s), look at some of the latest music business news (specifically oriented on what affects independent artists), and take some reader e-mail and voice-mail.
Female Mixing Engineers Podcast
FME is the brainchild of producer, mixer and educator Darcy Jeavons. Each episode contains a short tutorial section by Darcy and then she features 4 songs by 4 female engineer/producers working out of home-based studios. Darcy is unflappably encouraging and the show is a lot of fun to listen to.
The Mastering Show
The Mastering Show is a teaching/tutorial program about audio mastering. It is hosted by mastering engineer Ian Shepherd and Jon Tidy, Home Recording Show alum. In each episode Ian brings the lesson and Steve plays the student, asking clarifying questions and making sure the listeners understand the subject. So far this show is a mastering master course, and I certainly understand the subject far more than I did before. I will go back and re-listen I'm sure.
Master Your Mix
Through interviews and Q&A episodes, Mike Indovina shares recording tips and techniques to help engineers, artists, and producers improve the quality of their recordings and mixes (even from a home studio). Mike Indovina is a recording, mixing, and mastering engineer who has worked with hundreds of artists in multiple genres ranging from punk, rock, pop, hip hop and more. With over 20 years of studio experience, he has gained a reputation as an engineer with a sharp attention to detail.
The Project Studio Tea Break
Exploring the lighter side of home and project studios, Mike Senior and Jon Whitten take on subjects each month like their most embarrassing musical or recording/mixing moment, most bizarre track they're listening to right now, and what is the wackiest audio product or product name on the market right now. Mike is a former editor and current contributor to Sound on Sound magazine and Jon is a songwriter, composer and performer. Laugh out loud funny through and through!
The Recording Lounge
Kendall Osborne is an engineer and recording studio owner. His show, The Recording Lounge, is entirely educational-based. In each show he goes in-depth into some recording subject, frequently with audio examples. The show has been in continuous (if irregular) production since 2009 making it quietly one of the longest-running audio shows out there. As of this writing there are just over 75 shows available. Topics range from setting up a studio to dealing with musicians to session tips. One of my favorites.
Song Exploder
Song Exploder is not a typical recording podcast. Hrishikesh Hirway has put together a unique podcast where each episode deconstructs a popular song in the words of the songwriter. He obtains either stems or the original multi-track of the song and as the artist describes different aspects of the song and arrangement he mixes the soloed track underneath the conversation. The episodes aren't very long and end with the completed track. He has covered a variety of genres from rock to alternative to soundtrack.
Switched on Pop
Switched on Pop is a podcast about the making and meaning of popular music hosted by musicologist Nate Sloan and songwriter Charlie Harding. They break down pop songs to figure out what makes a hit and what is its place in culture. They aim to help listeners find "a-ha" moments in the music.
TechMUZE
The TechMUZE Academy and podcast is the brainchild of Dezz Asante, producer, mixer and music retailer. His brief is to provide lessons and education to beginners and experienced home recordist and mizers alike. The shows feature interesting lessons with audio examples where appropriate. Dezz got his start as a contributor to the Inside Home Recording podcast and branched off into his own show back in 2011.  The show had appeared to podfade back in 2014, but has returned with a regular new episodes in 2015. Note that any missing episode numbers in iTunes are video episodes available on the website.
The UBK Happy Funtime Hour
Gregory "UBK" Scott is the owner and creative force behind Kush Audio. He had for along time been very active on the GearSlutz forum dispelling audio myths and dispensing advice. The UBK Happy Fun-Time Hour grew out of that experience and is hosted by Scott and full-time mixer Nathan Daniel, who is also Kush's head of customer service. The format of the show is Q&A with discussion between Scott and Daniel. Warning, they often spend almost as long making fun of the questioner's name as answering the question. Know that the answers are worth the wait, however.
Film/Game Scoring
The Annotator
The Annotator is Song Exploder for movie, TV and video game scores. In each episode a composer talks us through one or more of their cues from a specific film, TV episode or video game while they play in the background. The producer is Christopher Coleman and he introduces each show, but the main part is solely from the composer.
Art of the Score
The Art of the Score is the podcast that explores, demystifies and celebrates some of the greatest soundtracks of all time from the world of film, TV and video games.
Each episode features Andrew Pogson, Dan Golding and Nicholas Buc checking out a soundtrack they love and breaking down its main themes, exploring what makes the score tick and hopefully imparting their love of the world of soundtracks.
I love this podcast because it is chock full of audio examples of the ideas and themes the host discuss. Highly recommended if you are interested in movie and TV scores.
Scorecast
The Scorecast podcast is a product of Scorecast Online, a resource community of working film, television, video game and mixed media music professionals that is dedicated to providing relevant news, commentary, and education for the professional media production community. Its core aim is to inform and educate anyone interested in the re-sophistication of the business and craft of making music for all visual media applications. The podcast consists of interviews with working composers and roundtable discussions of industry news.
Electronic Music Production
Appetite for Production
Essential news and views for music producers from two industry insiders. Hot takes on the latest software and hardware, VST plugins and Kontakt libraries dissected, and our #producerproblems laid bare. Tim Cant (MusicRadar) and James Russell (Electronic Musician) bring their lighthearted take on the newest news and tools, taking no prisoners.
The EDMProd Podcast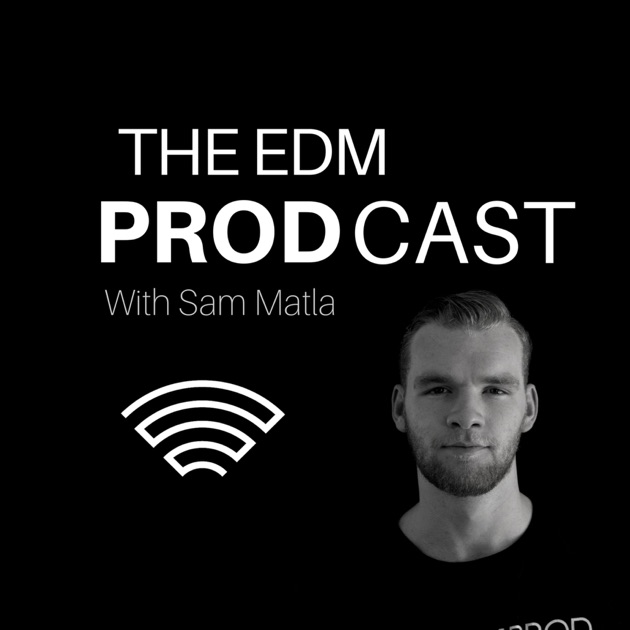 The EDMProd Podcast is an interview style show by Sam Matla with EDM producers and other music industry professionals. I find that many of the pros he speaks with offer significant content applicable to people working in any genre. Greg Gaminno's branding episode is a great example, but there are nuggets to be mined in almost every one.
The EDM Producer Podcast
The EDM Producer Podcast is an interview podcast specifically aimed at the electronic dance music artist. EDM Producer Steve Cherubino also produced Bobby Owsinski's podcast. He talks about how his guests got into the business, their workflow and favorite gear.
Music Business
The Music Industry Blueprint Podcast
The MIB Podcast is a daily, short piece from former Taylor Swift manager and current music business educator Rick Barker. Each day he takes a concept from the music business and explains why it is important and how a musician can apply it. His wealth of experience and giving attitude make this a very valuable 10 minutes. Occasional longer episodes where he interviews and industry insider to help spread their insight. A good companion to the Six Minute Music Business Podcast.professionals that other shows are missing.
The Six Figure Home Studio
The Six Figure Home Studio podcast is a tutorial-type show hosted by Brian Hood and Chris Graham, both of whom have successfully turned their home studio businesses into six figure full-time jobs. Brian is a mix engineer and Chris is a mastering engineer. Each episode tackles a topic like website design or best business practices, or features an interview with someone who has a lot to say on the subject. There is a companion blog and course, as well.
The Six Minute Music Business Podcast
This short, daily show features Wade Sutton of Rocket to the Stars, an artist services record label, gives artists insights and tips that are vital to growing a successful music business. A good companion to the Music Industry Blueprint podcast.
Legacy
The AudioSkills Podcast
The AudioSkills podcast is hosted by on-line educator Scott Hawksworth. He has a series of video tutorials for recording, mixing, mastering, and music production. His podcasts consists of interviews with experts and other educators to help draw from them the tips, tricks and techniques that everyone in the studio ca learn from. While the podcast is mostly applicable to novices and beginners, there are always helpful gleanings for the most experience engineer and producer. This podcast ceased production in April 2018 after 43 episodes.
Composer Quest
Composer Quest
is an interview show, this one specifically about songwriting and composition. Composer and songwriter Charlie McCarron has been producing this show since 2013 with episodes released several times per month. There are a lot of interesting perspectives on this show, from hobbyists who write for the love of music to full-time composers and songwriters. The series concluded after seven season and 166 episodes with a year-long tour of the world visiting composers all over.
The Home Recording Show
The Home Recording Show  was for years THE home recording podcast. It has, unfortunately, podfaded but they do still publish a couple of episodes per year. The hosts are Ryan Canestro and Jon Tidey, small studio operators up and down the west coast. Jon also edits the blog AudioGeekZine.com. Ryan has gotten super busy as a movie and video sound recordist in LA, and John hasn't kept up the podcast without him. On a bright note, all of their nearly 250 shows are available on the website, and the format included a lot of tutorials and other great information, along with roundtable discussions of the matters at hand. Jon has moved on to co-hosting the Mastering Show with Ian Shepherd.
The Home Recording Weekly Podcast
Kern Ramsdell, the host of the Home Recording Weekly podcast (released every other week, by the way) is a disabled vet who took up home recording as a hobby. He then decided to start a podcast to help spread what he was learning about his new favorite pastime. Since then, he's started an annual songwriting contest with stupid great prizes donated by many big names in audio, and been able to earn some money mixing other people's music and doing FOH for live shows. The format of the show is a mix of him rambling about what he's learned recently and interviews with the major home recording educators, like Graham Cochrane, Joe Gilder, and David Glenn. The podcast wrapped in April, 2017 after 91 episodes.
Inside Home Recording
Inside Home Recording was one of the early successful home recording podcasts. Over its 101 show run there were a number of co-hosts including Paul Garay, James Devon, Derek K. Miller and Dave Chick. The show begins with some banter, music-related news, topical segments, and ends with an opinion section where the hosts sound off about something going on in the world of music right now. Sorely missed, IHR is worth exploring the back episodes.
Home Studio Corner Podcast
Joe Gilder runs the Home Studio Corner website, with is an educational site for, wait for it, people with home studios! His ongoing podcast has gone through several iterations, but as of this writing is 30 minutes where the first 10 is a rant section, where Joe talks about some subject that is on his mind (always home recording related) followed by 20 minutes of Q&A. Joe does a particularly good job of pulling useful answers out of sometimes obtuse or hyper-specific questions. He's even answered a few of mine. Joe sunset the podcast in July 2018 to concentrate on other aspects of his business.
The Mix Coach Podcast
Kevin Ward is a full-time mixer in Nashville and  runs a popular subscription education site called MixCoach Member. The show recently changed format from a longer question and discussion format involving Kevin and one of his interns to a short-format tip involving a subject that is currently on Kevin's mind. As of this writing the show is published regularly and is nearing its 100th episode.
Mix Notes from Hell
Kenny Giola is a producer and mixer with several educational products available as well. He began this podcast as a roundtable discussion of the news of the day with several of his fellow Berklee graduates. It's an entertaining show with occasional guests, but after a furious initial run of 15 episodes, production has been much slower.  It's still an enjoyable listen, and worth the time to work through the back episodes.
The Modern Recordist
Hopefully I can move this one from Legacy back into Active, although there hasn't been a new episode since January 2018. I've been working my way through the back episodes because it's worth it. From the podcast website: "Each week, host Jon Stinson, hangs out with deeply insightful music makers across many disciplines, for an authentic and entertaining, yet insightful and thought-provoking conversation. Each episode is a fun experience that will teach you something new, and leave you with new perspectives and creative ideas.
Episodes consist of a low-key conversation, a long format interview that runs for about an hour and thirty minutes, but actually feels more like a hang out. Imagine the last time you went out for coffee with an acquaintance so that you could get to know more about them. Or the last time you met up with a good friend to get the scoop on all the latest. That's what it feels like when listening to The Modern Recordist. And yet, the conversation is always centered around how to realize your vision of making great music that resonates."
Produce Like a Pro
Warren Huart is a producer and mix engineer working for over two decades in southern California. This interview format podcast explores the processes and philosophies of working producers and other studio denizens from all over the world. While focusing on music producers Warren has also spoken with recording and mix engineers, and even studio musicians. This podcast takes a different approach, focusing on music production rather than mix/recording techniques or the music business. Much welcomed. Some time in 2018 Warren went video only, abandoning the podcast stream.
The Project Studio Network
The Project Studio Network is the grandaddy of home audio podcasting. It was written and hosted by Michael Bolin and frequent Womb contributor Big Al Wagner. Both run small private studios and Mike works in a music store, and their catch phrase is that they, like us, are the "Unsung heroes of the music business." Their shows consists, like many on this list, of a short banter segment (Crosstalk), the latest music news, informational segments on some aspect of home recording, and at the end they "tweak the stupid knob" giving some humorous story from the world of (usually) popular music. I love this show because of the wonderful good humor of the hosts. They spend much of the show laughing and we laugh right along with them. Another thing that makes this show stand out are the regular contributions by award-winning producers and mixers like Charles Dye. Unfortunately the guys hung it up after 100 shows, but the back episodes are a wealth of information and entertainment.
The Samplecast
The Samplecast is a podcast and a Youtube show that are related but not identical. In each show Reuben Cornell presents new sample libraries and virtual instruments with demos of each. Typical segments include a roundup, an in depth review, free/bargain vsts, and the occasional interview. Sadly shuttered after 78 episodes, it was just too much work for Rueben – wish he had gone the Patreon route and kept it running.
Sessions with Slau
Slau Halatyn is a recording studio owner from New York City. His podcast ran for a few years between 08 and 2012, running about 25 episodes total. It is a narrative show with Slau discussing various aspects of his recording studio or other subject on his mind. His show about recording an orchestra in Ukraine is especially entertaining (complete with audio examples). A self-proclaimed microphone freak these shows are worth the time. (Note for Believers: Slau is an outspoken atheist, which occasionally comes up on the podcast). (5/3/16 I heard recently that Slau is working on reviving the podcast – here's hoping).
Simply Recording
The Simply Recording podcast is the brainchild of audio educators Joe Gilder and Graham Cochrane. Published monthly, the show consists of a lesson section by one of the hosts, usually with some Q&A type dialog, followed by a quick tip. The ethos of the show is GIRATS (Get It Right at the Source) and your gear is not holding you back nearly as much as your skills. Fortunately, the skills are free, they just take a lot of work.
SOS Studio Sessions
The SOS Studio Sessions podcast was a music business podcast. Host Jordan Woods-Robinson is an independant artist and musician, and he's also a Blue Man. His podcast was dedicated to the idea that all independent artists (music or otherwise) are entrepreneurs, whether they want to think that way or not. Running 56 episodes, his podcast included interviews with other independent artists that have seen a level of success, or people in the industry like publicists, who give us the lowdown on what we need to know and do. This one has become a must-listen whether I'm in the mood for business or not. And, I need to work on my EPK…
Sound on Sound Podcast
The Sound on Sound Podcast was tied to the magazine of the same name. In each podcast editors Hugh Robjohns and Paul White discuss what's caught their attention and answer some listener questions (Sound Advice). There is frequently a feature segment by one of the technical editors. The SOS news editor takes a look at the latest music news, and finally they promo the upcoming magazine with teasers about the feature articles. The show is no longer appears to be in production, but the back episodes are a treasury of audio information.
Sound and Substance
Sound and Substance is the podcast and blog of John Steen, music producer and mixer. John's purpose is to be a place where indie artists and producers can come to learn about how to hone their craft, gain a better understanding of how the industry works and really challenge their thinking on what it means to create meaningful and profitable art in the current and evolving music landscape. The show consists of occasional interviews but mostly short philosophy segments from John. The last episode in iTunes is 10/28/2015.
Square Cad
 Adam Gonsalves hosted this interview/  article show centered on audio mastering. It ran 74 episodes before Adam had too much mastering work to continue the podcast. On his final episode he was the guest and was interviewed by a friend. I always enjoyed this show and Adam did a good job demystifying the dark art that is audio mastering. Check out the back episodes for an education.
Standing In the Stream
Standing in the Stream, hosted by percussionist and composer John Lane, features conversations with various creative artists in the field of music, visual art, writing/poetry, filmmaking, dance, and anything in between. As of this writing there are 30 episodes published with new episodes consistently twice per month. (h/t Tim Prebble) This podcast ceased in April, 2018 after 51 episodes.
If you know of a podcast that I missed – current or out of production, that you think is worth adding to this list, please leave me a comment below.